Being part of the customer success team at TeamApt means that I get to see things from a slightly different point of view. The product and engineering teams create new features, and our business owners use them, but in the middle, customer success has to ensure that both these sides understand each other. Here's a little insider perspective on what working with these two sides looks like.
A little about my journey
I joined TeamApt as a customer support staff almost three years ago. I found customer support quite interesting. Picking up issues, handling them and giving feedback to businesses is what it involves daily.
In January 2022, I got promoted and became the regional team lead of customer success for Lagos state, and that's when I really started to embody the role of a customer success personnel fully.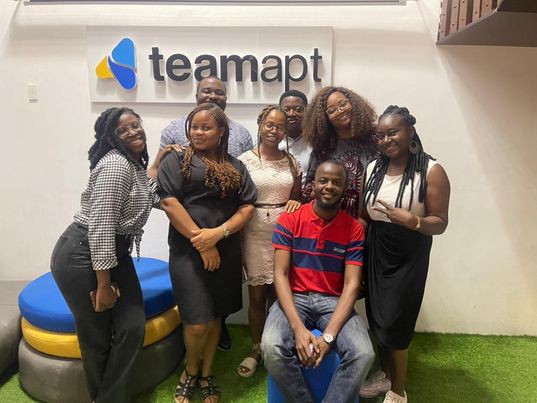 Being in customer success is an entirely different ballgame from being in customer support. It is wholesome and holistic. Fancy words, I know, but that's just it. Customer success deals with everything; from when the product feature is introduced to the customers to getting them to adopt it, educating them, and helping them to get used to that feature.
Even more, we take their feedback to see what we can do to improve their experience with our products and features. That's what it feels like — a more extensive approach. We're with the customer throughout the journey.
Taking this more involved approach is great because we help business owners enjoy our products fully. Even more, we get valuable feedback that the team can use to develop useful features for their businesses.
Staying in touch with our customers
Now, for our flagship product, Moniepoint, it isn't possible for us to be with every one of our businesses, so what we do, is host town hall sessions with members of our distribution network. In that town hall, we have a feedback session regarding support, product features and any issues they might have.
We also bring top-performing business owners to the town hall and reeducate them on new deployments and specific features. Importantly, we get feedback from them.
As the regional customer success lead for Lagos, I relay this feedback to the head of customer success, and she sends it to the product team. For the Lagos team, I have a sheet that the support staff fill out whenever they get feedback from a business owner, BRM or a state coordinator. We sort through the feedback and escalate the important ones.
Real-time feedback, real-time change
One thing I enjoy about our process is seeing the feedback we receive translate into features that make business easier for our users.
One way that has happened most recently is with the POS transfer feature. You can read the more geeky details here, but the POS transfer feature basically lets a customer directly make a transfer to a business owner's POS in order to get cash in return or make a purchase. Essentially, a customer will not need his/her ATM card in order to carry out a withdrawal from a Moniepoint business owner. It is a form of cardless withdrawal.
Along with an earlier feature, the card transfer feature, it provides business owners and their customers with multiple and non-conventional ways of carrying out basic withdrawal and deposit transactions and doing business. Both of these features were created to ensure better security for our business owners as they transact.
The cool part?
My team and I have seen a difference in the complaints that come in since we launched these features. Our business owners have called in less about the wallet top-up problem since we released POS transfer feature because they now have alternatives.
Not only do we now get more enquiries about these features, but we now also have something to introduce to business owners who are seeking safer options for transactions.
Honestly, there are some businesses that might not have made use of these features before. People get scared to try something new, and that's understandable. But often, when we introduce these new features, they're always excited because it's useful to their businesses.
This is another reason why customer success is particularly important for business owners in the product development cycle. Because we're with them through every step of the journey, it is easy for them to adapt to suggestions that we make since they trust our decisions. We're on their side and they know that, and this makes them willing to try the new features.
Collaboration for customer success
What makes this all go as smoothly as it sounds is the level of collaboration between the product team, the customer success team and our business coordinators.
We have an information hub where we stay updated with what the product team is working on. This is great because it means that we're not caught off-guard when something comes up. It also makes it easier to talk about upcoming updates in our town hall sessions.
We know the features that are coming up and can also give feedback based on our interaction with the customers. Whenever we give feedback, we can see that what we gave feedback on is being worked on.
Sometimes we invite people from the product team to those town hall sessions as well. There was a time we had Awal, our Program Management VP, and he was able to explain some things clearly to the business owners.
This type of synergy is great for our business owners.
Working in customer success means that we have to know our product in and out. It also means that we're in constant communication with our users. We're at the forefront, educating business owners on our products and getting real-time feedback from them on what's working or not.
I think this affects product development in that sense because it is through educating the business owners about these products/features that they'll adopt and continue to use them.
Collaboration is a huge part of product development, and while the customer success team isn't writing codes or designing screens, we're a piece of the puzzle that makes it whole. TeamApt's products are a favourite for our businesses because we listen to their feedback, relay them, and create features that solve their problems every time.
So, even though I'm not involved in the back end of developing the feature, when I see businesses having a very positive reaction to a feature, there's this joy that comes with it. It's always lovely to see and know that we're not just building for the sake of it. We're building features that matter and are useful to the customers.