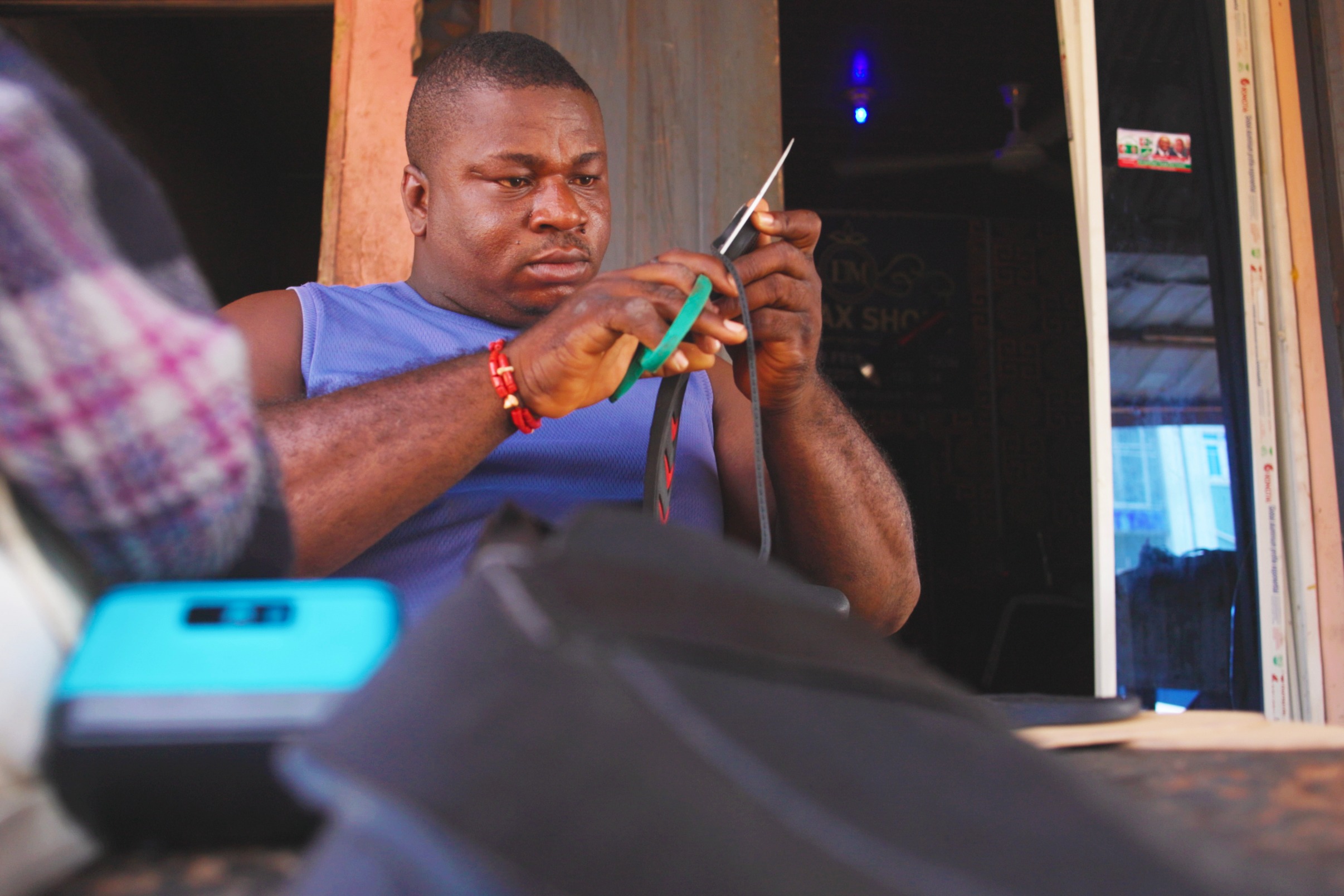 The first time I came across DMAX shoes, we were working on our 2022 year-in-review. We had gotten testimonials throughout the year - people sharing the different ways their lives and businesses had been changed by our products, and we wanted to interview some of them to share their stories. 
Okeke Desmond Chijioke, the owner of DMAX shoes, immediately stood out for a couple of reasons. Our research showed that Desmond used a wheelchair, yet his business was shoemaking. Even more, his business was in Benin city, the same city I'd stayed in most of my life. Right there, I knew I had to meet him. There was so much I was curious about, and hoped to hear his story in person.
On the day of the shoot, I arrived much earlier than the video crew, and this got me some time to speak with him. I had never had a conversation like this with a person with a disability who wasn't family before, so I wasn't quite sure how I would start the conversation with him. But as soon as I spoke with Desmond, my fears were allayed. He was willing to share his story, and he held nothing back.
Establishing DMAX Shoes
Before we began to speak, I watched him put together the top part of a shoe (called the "upper". Yes, I googled) together, from what initially only seemed like scrap leather to me. He had a sewing machine which had been tweaked so he could operate it with his hand, and with it, I could see the semblance of a leather loafer quickly come to life. It was fascinating.
I asked about his business, and he shared this with me;
"DMAX shoes officially started in 2020. I've been making shoes since 2011, but I officially started in 2020 after I graduated from the University of Benin. By God's grace, I graduated from the University of Benin after studying Public Administration. I was squatting with a friend from 2011 up till 2019, but immediately after I graduated in 2019, I looked at it and realised that I couldn't go back to my friend's shop because he is married. Going back to his shop when I'm done in school will look somehow. I didn't want to go back to work for someone else when I could have mine, so I had to put all my arsenal into action, and I was able to come up with something I established my own shop in 2020 at Okhoro, Benin city."
Desmond spoke with a determination that made every word he spoke carry weight to it. Clearly, he wasn't one to let anyone else determine his life's path. He took control unapologetically. A sheer resolve in his voice was hard to miss as he continued to talk about how he had set up his business;
"Things were not favourable in that area. The condition of that area was bad - no customers were coming, and I was spending a lot on transportation and other logistics. I discovered that it was really stressful for me, so I had to relocate back to New Benin, where people knew me. Because I was born and brought up here in New Benin, most people know me here. So going to Okhoro, was like I was going to a strange land, and it was hell for me. I paid for a year and 6 months there, but I only stayed 9 months, to be precise, before looking for a shop around New Benin to do the business."
"Because I cannot go around begging people for money to feed. I also could not go around doing menial jobs to survive, so I had to look for money to get another place. It wasn't easy as a physically challenged person, but I had to do it".
Uneasy beginnings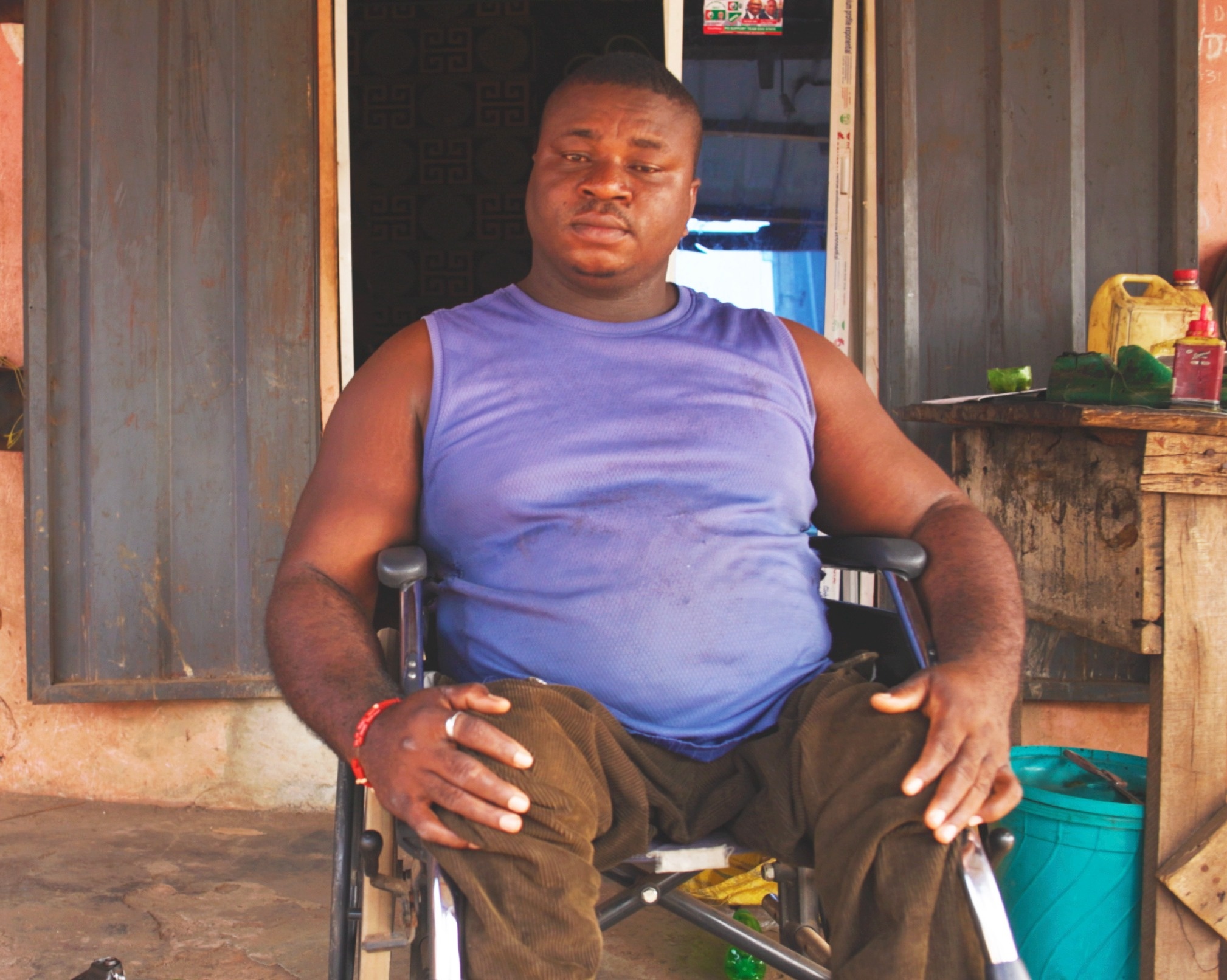 Small and medium-sized businesses like DMAX shoes in emerging markets often face many challenges. They often do not get the support they need, and even though everyday people depend on them for many things, they don't survive for very long. But despite this, Desmond was running a thriving business and making the decisions he needed to help his business grow. How easy could it be for Desmond, who used a wheelchair, especially in Nigeria, with zero accessibility adaptations?
"The truth is, it's not easy. It's not easy at all," Desmond shared, " I've been physically challenged for more than 30 years, due to different challenges and an attack. It all happened when my family and I travelled to the village. I was still very young, and that's how the story changed. I was walking before I went to the village, but when I came back, I couldn't walk. That's how it all started. Since then, it has not been easy. It even affected my education. I didn't have a wheelchair or anything for mobility to get to school. My father didn't have support from people because things were hard for him, and he couldn't afford a wheelchair. So I had to stay at home, watching those going to school. My mom tried her best, teaching me the little that she knew at home. I was almost 16 years before I entered primary school. I started from primary 3, and that's how the journey began".
He continued, "Before I could get into school, I received help from a stranger who's not even a family member. I had family members on my father's side who could've afforded it, but they never did. When my dad called them, they didn't help. It was a stranger. On the 25th of December 2006, my brother and I decided to go out for a Christmas stroll, and my younger brother carried me on his back. We were moving around to greet people on Christmas as usual, and that's when we saw someone - a good samaritan, a youth corper that had just finished service."
Unsure whether or not his family would be okay with her purchasing a wheelchair for him, this good samaritan first had to confirm. He continued telling his story, and I could see the joy and significance of this moment written across his face;
"She asked, 'If I buy wheelchair for your brother, your family go vex? Them go feel say I dey mock them say the no fit buy am?'
I responded, 'ah, them go happy o. If you buy am, my family go like am o'.
To my greatest surprise, on the 27th of December, 2006, I saw some people coming to my house with a wheelchair. They brought the wheelchair, and that's how I began to get my life back - going to church, visiting friends, and going to school."
Even though this had all happened roughly 17 years ago, he retold it like it was only yesterday. There's a lot of stigma around being a person with disability in Nigeria. People often assume that it is the end of the road for that person, and Desmond had felt the weight of their misassumptions too.
"I was indoors for years. I lived in a house for 4 years, and I didn't come outside to see anybody because I was ashamed of myself and didn't want anybody to see me. Many people thought that I couldn't become anything in life and that I shouldn't go to school. They looked down on me and told me I didn't need an education. They believed a physically challenged person couldn't amount to anything, but they were wrong."
Turning the wheels of fortune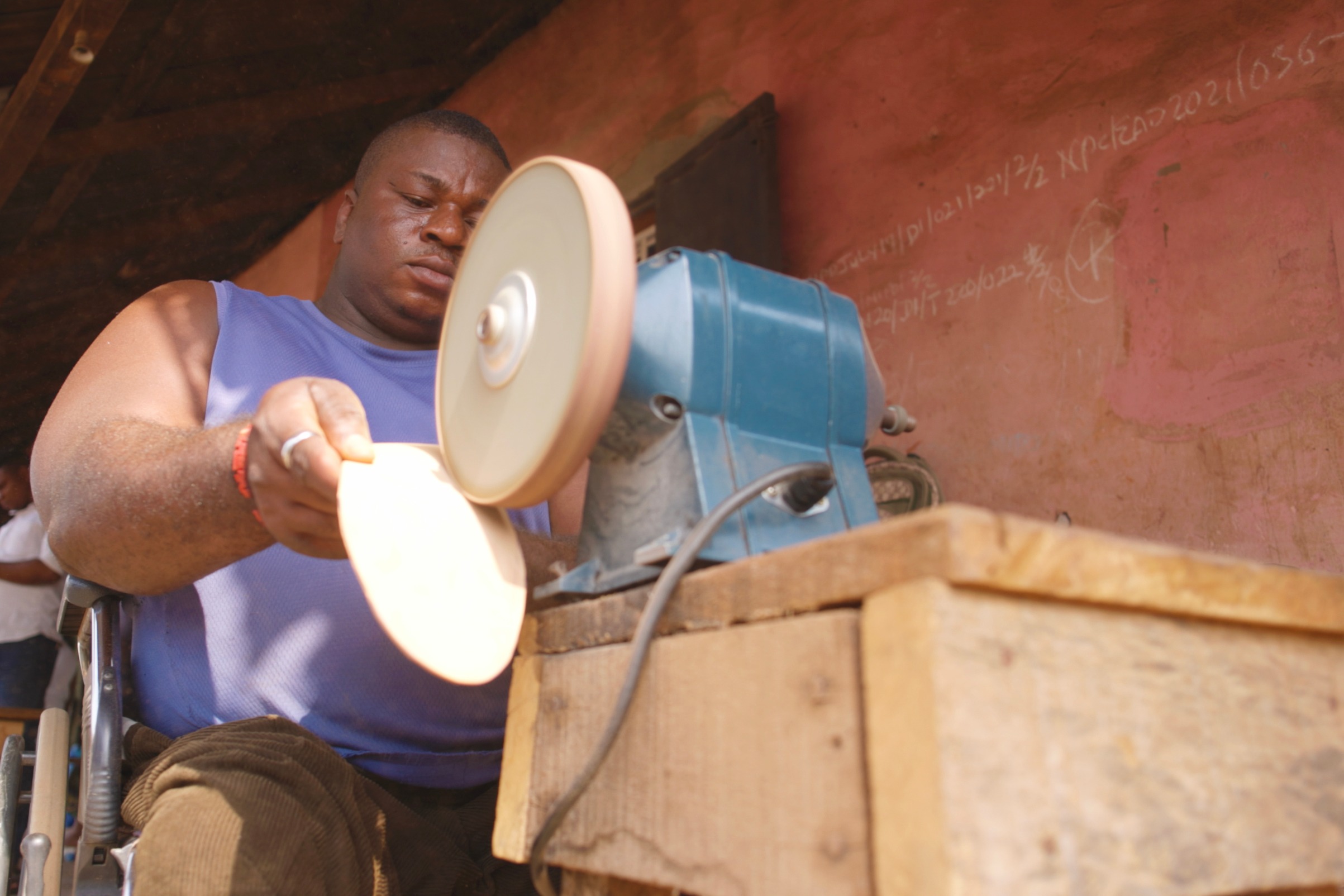 After being gifted a wheelchair, Desmond was on the way to putting his life together.
"But as I began to interact with others, I began to see a reason to live and started developing myself. Throughout primary school, I was top of my class, and my headmistress told my parents to allow me to sit for the primary 6 exams. I did and got into secondary school. It wasn't easy, but I had assistance from my younger brother pushing me around to get to class and work too - I started this shoe-making when I was in secondary school."
Despite people initially telling him to "focus on shoemaking", what they pictured was very different from the business he had built. To them, he would never do more than just petty repairs, earning too little to cater for himself.
They would tell his mother, "Mama Desmond, look for pangolo, find needle give am make e dey sow shoe for house". But his mother didn't listen to them, and neither did Desmond. He decided that he would go to school, and that's what he did.
"Even after I wrote my WAEC and made JAMB, gaining admission into the university, I had someone tell me not to go to school.
He said 'Desmond, don't go to school o. What do you want to do in school? School na scam'.
He said so many things then. I started praying to know the direction of God for my life, and after everything, I started making moves for myself. I have a mentor who encouraged me greatly. He told me that he didn't just see me as a physically challenged person but so much more, and that encouraged me."
Desmond got admission into the university on his first attempt. For those familiar with Nigeria's university admission process, this was no easy feat. He recounted this period of his life with both pride and gratitude;
"I didn't write jamb twice. I got admission into the University of Benin to study public administration. Then, another journey began - more stress. Many people said I wouldn't be able to cope as a physically challenged person, and that I wouldn't get any help. They cited the fact that classes would happen in different locations and I would have to move around a lot. My mentor told me to pray that God would send helpers. Which I did. From the day I got admission to the day I left, I didn't stress about pushing myself. I was always getting support from my coursemates and friends. The place we received classes had stairs, and I climbed them every day for about 4 years. I also had to go to other lecture centres, but I graduated successfully."
When Desmond graduated, he knew he couldn't start going around looking for a job. He'd heard about how difficult it could be for people to get jobs, and knew that it would likely be much harder for a person using a wheelchair.
"I decided to focus on my business, using a skill that I had developed for so many years. That's how I began in 2020. I did my youth service in 2021 and passed out in 2022."
Taking business to the next level - Using Moniepoint
"When I moved closer to New Benin, my shop was in a busier place, and I began to have people coming around to ask me if I had a POS terminal. I had never considered getting one before, but with so many people asking, I had to apply for one. The one I used previously was problematic because it had a lot of charges. Eventually, it felt like I was giving all my money over to them."
"A friend of mine, who we graduated together, came around and saw the terminal I was using and asked me to get a Moniepoint terminal instead. He was a BRM. He made a leap of faith for me. He trusted Moniepoint so much that he gave me the terminal to use before paying him back when I could. That's how he did it for me, and I started using Moniepoint."
"With Moniepoint, I started generating more profit. By God's grace, I'm a father of one now. I have a wife, and I'm taking care of my family."
Business owners like Desmond across emerging markets are collecting payments, accessing credit and managing their businesses with ease through Moniepoint. Ready to try a simple business banking solution that works? Visit moniepoint.com/ng