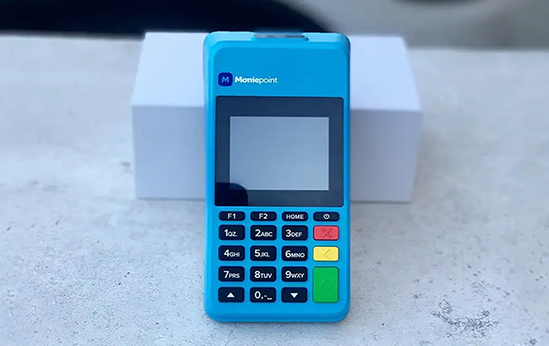 There was a conversation on Twitter last week about how "Moniepoint became king" and with everyone wondering how we grew,  I thought to write about it.
My name is Tobi and I am the Vice President of Loans at TeamApt.
Three years after its inception, our flagship product, Moniepoint, has evolved into a full-service business bank. So far, Moniepoint has enabled 171,000 businesses process a billion transactions worth over 26 trillion Naira.
This is the story of how we became market leaders with very little funding within two years. 
—
Ground Zero
One afternoon in May 2018 as I was having lunch, my CEO - Tosin - stopped by my desk, tapped my shoulder and said "Tobi, let's build an agency banking app." 
I swallowed the spoonful of rice I had just put in my mouth and said, "Okay."
It was my first month on the job. 
But TeamApt wasn't new to agency banking. Before then, we had been building Point of Sale (POS) terminal applications for some of the biggest Payment Terminal Service Providers (PTSPs) in the country. 
Nigeria's financial inclusion numbers were pretty bad at the time and Tosin thought we could do more good servicing Nigeria's largely unbanked and underbanked people by using our market expertise to build a better agency banking system.
I agreed with him. 
——
Sangotedo
The next day, I got in a cab with a colleague on the marketing team and we drove to Sangotedo - a bustling open market area on the outskirts of Lagos. 
The goal was to understand what was missing in the market. 
Every agent I spoke with had the same problem - reconciliation. 
At this point, it is important to quickly explain how a POS works.
Every POS transaction goes through a central service called NIBSS, which is short for Nigerian Interbank Settlement System. 
You have a card issued by a bank, let's call it Bank A. The POS terminal being used by the agent is owned by another bank, Bank B. 

When your card is inserted into the POS terminal, its details go to NIBSS, saying, "Hey, I'm trying to debit this card from this other bank."

NIBSS then sends it to Bank A saying, "Hey, we're trying to debit this your card."

Bank A does the debit and tells NIBSS, "How far, I've done this debit o."

And the NIBSS tells the POS, that the debit has been done. 

At this point, the terminal displays that the transaction was successful. 
Before Moniepoint, the only party that knew all of the transactions that happened was NIBBS.
For the agents, this flow posed a problem - it meant that the agent's bank wasn't really involved and this created a blindspot that made reconciliation nearly impossible. 
You know how when you use a POS, two receipts are printed out? One is the customer's copy and the other is the merchant's copy. 
The agents literally had rubber bands and would tie the merchant copies for the day together.
They would then manually check each receipt the next day to make sure everything corresponded. 
It was tedious.
— 
Fixing the problem
https://media.licdn.com/dms/image/C4D12AQFOgUiR-OQ9Aw/article-inline_image-shrink_1500_2232/0/1653051856890?e=1676505600&v=beta&t=HJ3y-y9nmxVWhw5SaC4-_zGqs9M3OwJ9Xvz3KMhu-NM
Back in the office from my market research at Sangotedo and many other communities, we put together a small team of three and got to work.
I was the product manager, Toba Ojo was the backend and frontend and everything engineer, and Dami Ajiboye was in charge of the POS app.
We also got someone from the sales team, Deji, to try to get us customers. He was a little too good at his job. Our promise of real-time reports meant that in no time, Deji had gathered a waitlist of agents who needed the product we had not finished building.
My office at the time was unfortunately close to the reception. And our only protection was a semi see-through glass wall. 
The agents would come to the TeamApt office, sit at the reception and intently stare daggers at my office while the team and I were building. Some of them would even knock on the glass wall asking us, "Guys, how far? Is it ready?"
It's funny thinking about it now but back then, it was extremely nerve-wracking.
At some point, I begged Deji, the salesperson, to please stop bringing on more people. We needed to concentrate on making the best solution without pressure to rush what was already an efficient run time. 
— 
Version 1
After six weeks, we finally had something for the agents who had been staring daggers at us.
https://media.licdn.com/dms/image/C4D12AQH-XjaPtczwoA/article-inline_image-shrink_1500_2232/0/1653050655631?e=1676505600&v=beta&t=UoVUuV_D7z7mkoKcnjAzl5iQX_lhxSYERINedgqVMgM
To solve the reconciliation blindspot, we added another leg to the transaction process flow where once NIBSS sends confirmation of the transaction to the POS, the terminal sends the transaction to us. This allowed agents to get real-time reports of the transactions they carried out. 
It wasn't fail-proof but it was simple and solved the problem. 
—
Another serious problem was stability. 
When NIBSS was down, nothing would work.
This problem could be completely fatal to their businesses. 
There were rumours of an agent who almost experienced jungle justice because a customer's card was debited but the POS showed that the transaction was unsuccessful. 
Thankfully, TeamApt is full of rockstars. One of them is Solomon, an engineer who had been working on our payment switch called Aptent. Solomon came on board and got to work upgrading Moniepoint by ensuring better connectivity with banks.
—-
All hands on deck
At the start of 2019, we all realised Moniepoint had the potential to be something special. Tosin refocused over 80% of the entire team on Moniepoint, and helped turn what had been up until that point just a product, into a business:
We doubled down on growth, giving each other targets of the number of terminals to distribute in a day, how many agents to onboard, and so on.

We  executed a structure within our distribution network that spurred our growth. 

We built out a hyperlocal support system for the agents that was very personal
Our numbers blew up! 
We went from processing millions of Naira in a month, to billions in a day. 
We were hitting our daily milestones, forcing us to set higher goals each day. 
—
Yet another problem
Although some of our competitors had distribution networks as well, their systems lacked transparency. 
Cluster managers and aggregators with our competitors had no way to confirm they were paid the correct commissions. 
We did the opposite. We made commissions transparent. 
Everyone could track what they earned, and how they earned it. 
This incentivised agents to work hard at processing more transactions and delivering the best service to their customers.
—
Scaling Moniepoint
Sometime in 2019, I found myself in another kiosk. I had been summoned by one of our agents. Why?
Because he kept getting requests from community members asking for loans.
This was an interesting proposition. So we ran a pilot. We gave out some loans and things went great. People paid back at the appointed time, with no issues. 
This watered the idea that agents were business owners who sold cash. It made sense to expand our offering so we could better cater to the needs of these businesses.
But to give out loans and the other solutions we had in mind, we needed a banking license. 
So we first partnered with an existing bank to enable us to provide these services.
—
A Valentine's Day gift
Sometime in 2021, we applied for a banking license and on the 14th of February this year, 2022, we got the coolest Valentine's Day gift; our banking license.
We could now build our bank. 
We had name ideas like Kuwego, a combination of the word 'money' in Nigeria's major languages - Kudi (Hausa), Owo (Yoruba), Ego (Ibo). 
The team ultimately decided on retaining the name Moniepoint.
On Apr 13, 2022, we officially launched Moniepoint, our full-service business bank
https://media.licdn.com/dms/image/C4D12AQHzr3jciJ_Yrg/article-inline_image-shrink_1500_2232/0/1653052079182?e=1676505600&v=beta&t=uwUify7Opxkg37yiWcMovKmcyqBUf0qQPFlcUHJKY4A
The summary of how Moniepoint became king?
We identified problems around reconciliation, support, and distribution that no one was addressing and created reliable solutions for agents.
Moniepoint today has evolved to provide banking solutions that enable over 200,000 businesses to collect payments, access loans, manage operations and ultimately grow their business.
_
Now, you might be wondering how the evolved Moniepoint is different from other business banks. I'll write about this in a week or two but, in the meantime, if you're a business owner serious about growing your business, you should check out Moniepoint today.